The most efficient precast concrete Retaining Wall system
The Smartstream Technology Walling System is the safest full panel precast system in the marketplace.
Rigid Footing Support System means no bracing of wall sections during installation
Footings further apart than traditional (separate panel/column) systems
Increases speed of installation with maximum safety
Wall sections are easily replaced in the event of damage
Efficient & cost-effective
The Smartstream Technology Walling System provides a major increase in efficiency, both in production and field installation, working with one Combo-Cast Section instead of separate pieces. A crew of three, including an experienced construction foreman, can install an average of 300 metres of wall per week.
Wall sections can easily accommodate lighting and security components
Interchangeable form liners in a variety of textures allow both for multiple wall heights and textures within the same form; also allows for texture on both sides if required
Excellent sound barrier properties
Concrete retaining wall applications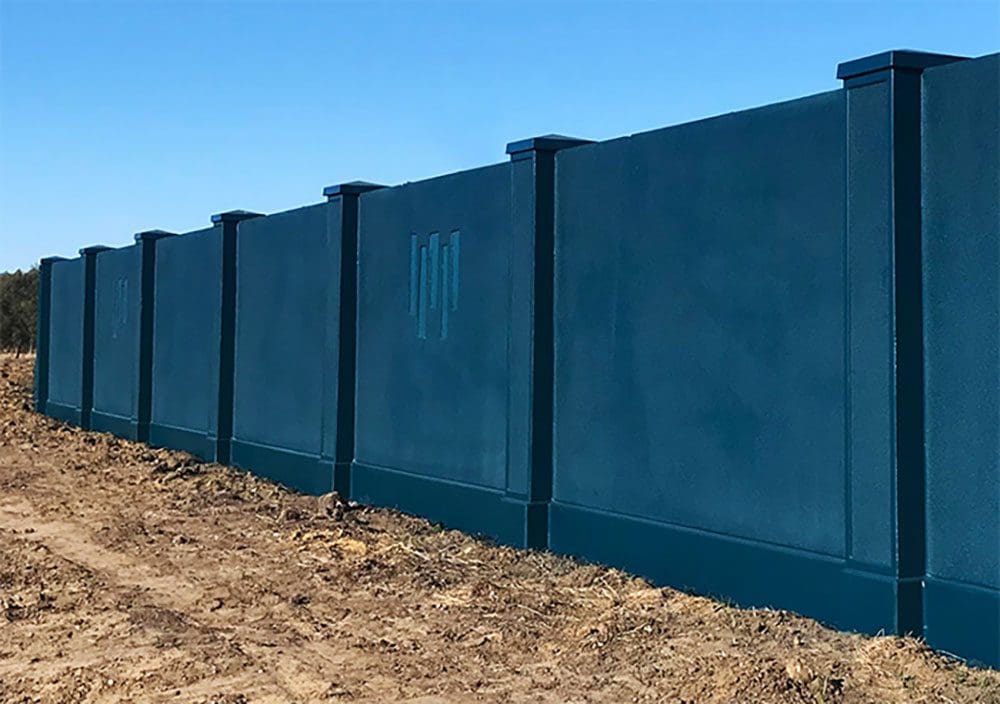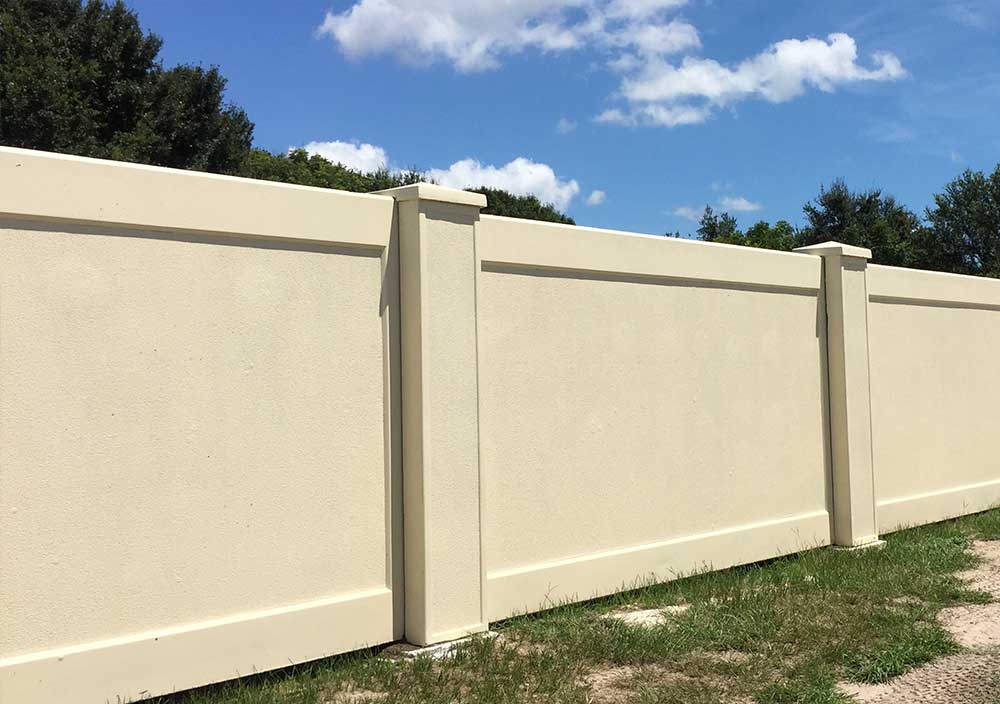 Benefits of precast concrete boundary walls Integrated panel and column wall sections allow for quick and easy installation Easier boundary wall installation saves time and reduces labor costs Unique rigid footing system allows for safer boundary wall installations Custom decorative options include stone, block, brick, stucco and architectual designs Textures can be applied to both sides of walls for
optimal aesthetics
Textured concrete walls offer attractive versatility – Smartstream Technology's system provides attractive texture to both sides of each precast concrete wall. Colours to match Colorbond fence colours.
Panel Nominal Dimensions (L x H x T): 4.65m x 2.4m x 0.125m
Also stackable to 4.8m in height
BESPOKE & CUSTOM DESIGNS AVAILABLE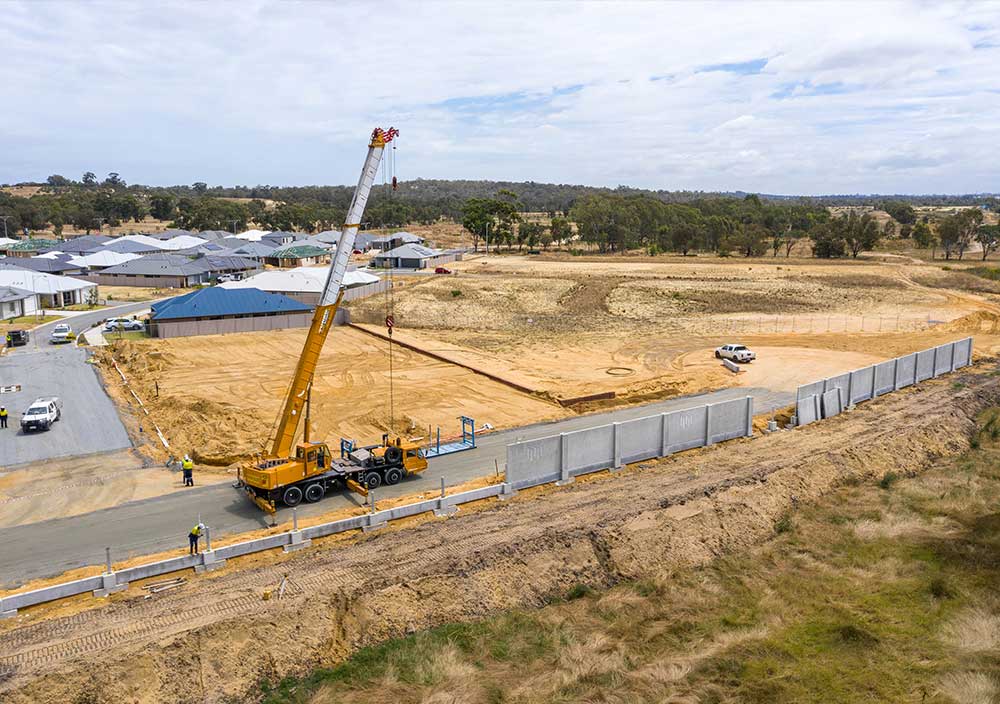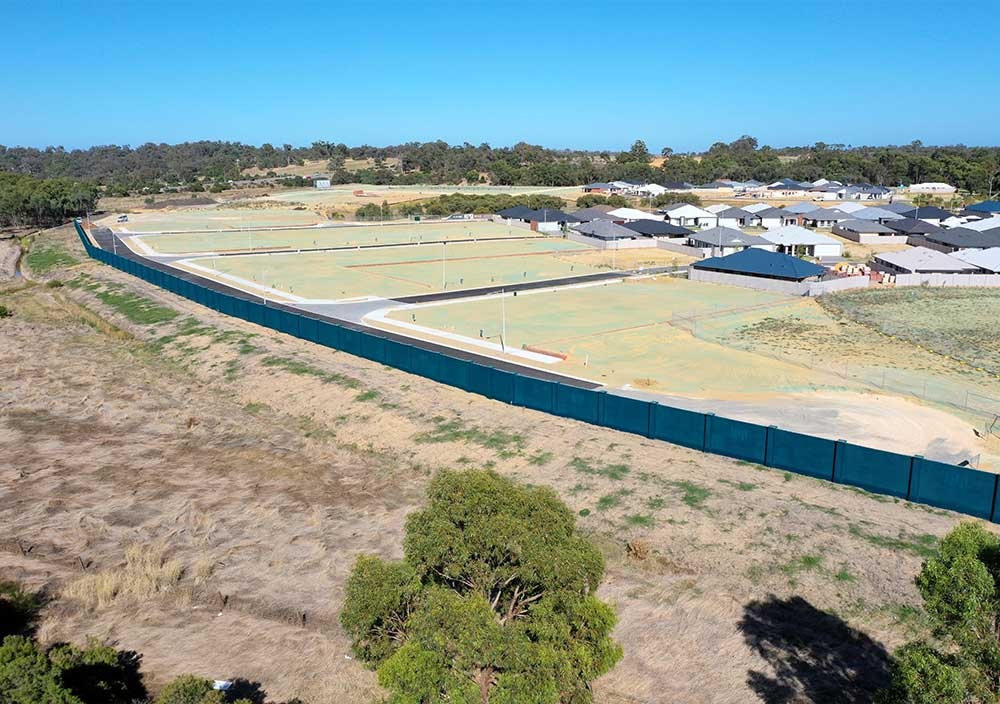 Practical walling system solutions
I was engaged by Smartstream Technology to provide the Structural Engineering Design for a 285 metre long section of Noise Wall at the Cedar Woods residential development, Millars Landing in Baldivis, as required byMain Roads Western Australia. The first stage of the wall,located just north west of the Mitchell Freeway/Kulija Roadinterchange was installed in late 2020.
The 'StoneTree' reinforced precast concrete walling system was specified for this project, with the manufacturing machine being purchased by Smartstream Technology from their US supplier. The system is ideal for noise barriers, feature and boundary walls as well as retaining walls. It provides for the addition of moulded aesthetic surface designs with a major increase in efficiency, both in production and field installation, with an average of 300 metres of wall able to be installed inside a week.
I have no hesitation in recommending and specifying this walling system for my clients' projects.
Cedar Woods decided to implement the new Smartstream Technology StoneTree precast concrete wall system at our Millars Landing project in Baldivis, for a noise wall which will ultimately extend for over two kilometres along the Kwinana Freeway.
The system was selected due to its benefits in terms of cost and time efficiency in comparison to the other available options. The ability to incorporate our project branding into the finished product was also a great bonus.
Smartstream Technology's innovative approach has delivered a unique precast concrete noise wall, with custom finishes for Millars Landing. Under tight construction time frames, the noise wall fabrication and installation was efficiently delivered in parallel with adjacent civil subdivision works packages undertaken by main contractor Wormall Civil.
Talk to us about our precast walling systems for your next residential, commercial or industrial project.